Hello there! Thank you for taking the time to visit my little place on the web. I hope you'll enjoy your stay.
My name is Roy Nathan de Groot, I'm a freelance pixel-artist, game-designer and full-time programmer with a love for 8- and 16-bit games. You might recognize my work from games like: Super Crate Box, Flush the Goldfish and Serious Sam: the random encounter.
If you have any questions or just want share some love, feel free to contact me!
Freelance
I'm currently looking for freelance projects. If you need a versatile pixel artist, hit me up!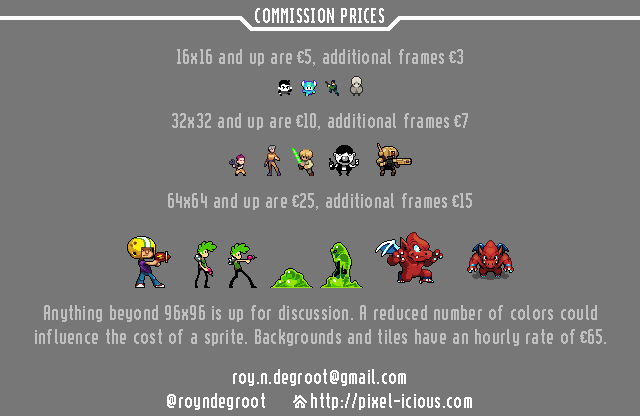 Projects




AND MORE
I haven't done a lot of in-game animations, I do love to animate. On the link below you can find a selection of animations from different projects.
Animations Everywhere
And here's a page for some of my doodles, ideas and asorted sprites.
A collection of non-game art
Pixel art review
There are a lot of games that use pixel art as a visual style. I like to think I know a thing or two about pixel art, so I decided to review them based solely on their pixel art.
july 31, 2015
Not much here at the moment. If you have (a suggestion for) a game you'd like me to review. Please mail me the details and I will try to take a look at it!